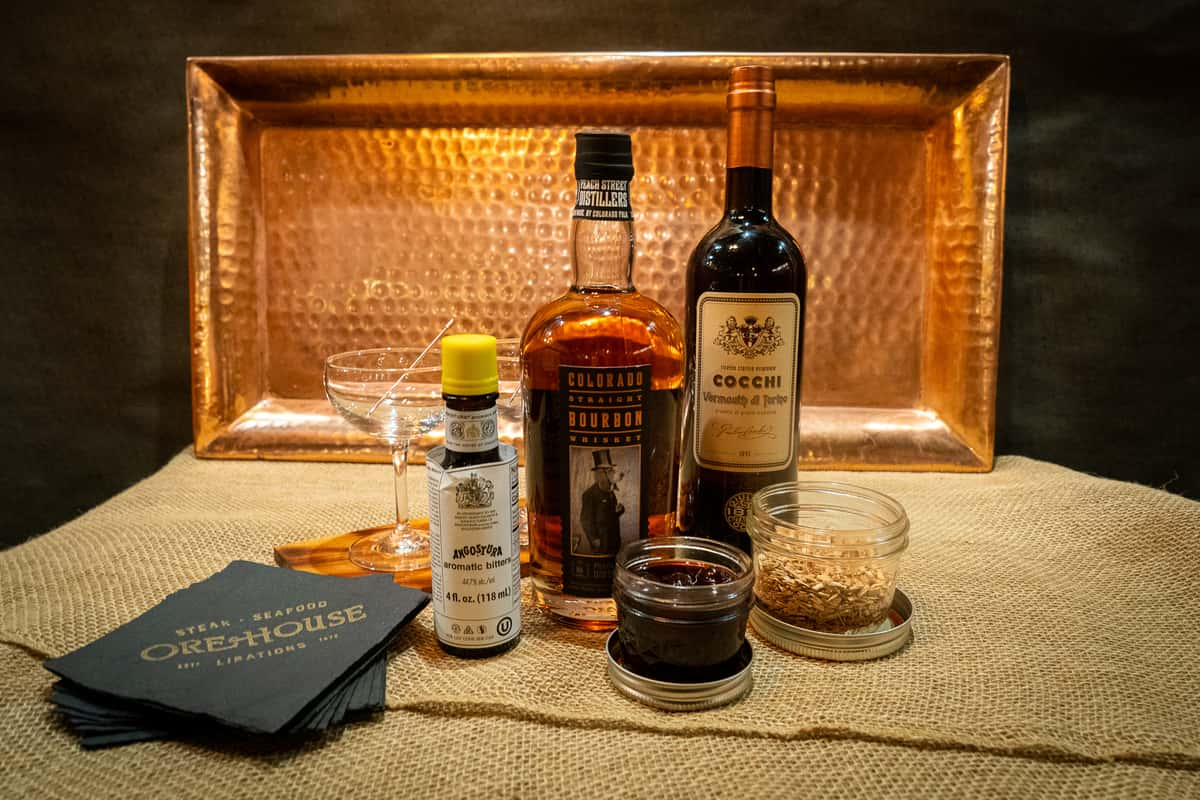 Bottle Service
Scroll Down for Instructional Videos for Your Bottle Service
Desperado: Instructional Video
Ingredients:
1.5 oz - Smoked Green Chile Infused Cimarron Tequila*
.75 oz - Pierre Ferrand Dry Curacao
1 oz - Fresh Lime Juice
.5 oz - Agave Nectar
1 ea. - Fresh Sage Leaf
Rim - Smoked Salt

Tools Needed:
Shaker, Ice, Torch (or lighter, but that's boring)

Method:
*As soon as you recieve your kit add tequila to smoked green chiles, and let set for as long as you can (we recommend 48+ hours). 
Rim chilled glass with lime juice and dip in smoked salt, set aside. Add smoked green chile infused Cimarron tequila, Pierre Ferrand dry curacao, fresh lime juice and agave nectar to a cocktail shaker with ice and shake vigorously. Pour cocktail straight into glass. Hold sage leaf to flame and add to the top of cocktail to garnish.
Miner's Mule: Instructional Video
Ingredients:
2 oz - Spring 44 Vodka
.5 oz - Simple Syrup
.75 oz - Fresh Lime Juice
4 oz - Fever Tree Ginger Beer

Tools Needed:
16oz copper or glass tumbler, cocktail shaker or container with lid, ice.

Method:
Chill your copper tumbler (or glass tumbler) with ice water. Add Spring 44 Vodka, simple syrup, lime juice and ice to shaker. Shake vigorously, dump ice water out of your tumbler, add fresh ice and pour freshly shaken cocktail over ice. Top with ginger beer. Garnish with lime wedge.
Up in Smoke: Instructional Video
Ingredients:
1.5 oz - Peach Street Bourbon
.75 oz - Cocchi Sweet Vermouth
2 Dashes - Angostura Bitters
1 ea. - Brandied Cherry

Tools Needed:
Mixing glass, stirring spoon, strainer or sieve, coupe or martini glass, torch (or lighter, but that's no fun!), ice.

Method:
Put cherry wood on fire safe surface such as a cast iron pan and light with torch. While smoking cover with coupe or martini glass and leave. Add Peach Street Bourbon, Cocchi Sweet Vermouth and Angostura Bitters to mixing glass with ice and stir vigorously. Strain into smoked coupe. Garnish with brandied cherry on a skewer.