Bottle Service
Scroll Down for Instructional Videos for Your Bottle Service
Desperado: Instructional Video
Ingredients:
1.5 oz - Smoked Green Chile Infused Cimarron Tequila*
.75 oz - Pierre Ferrand Dry Curacao
1 oz - Fresh Lime Juice
.5 oz - Agave Nectar
1 ea. - Fresh Sage Leaf
Rim - Smoked Salt

Tools Needed:
Shaker, Ice, Torch (or lighter, but that's boring)

Method:
*As soon as you recieve your kit add tequila to smoked green chiles, and let set for as long as you can (we recommend 48+ hours). 
Rim chilled glass with lime juice and dip in smoked salt, set aside. Add smoked green chile infused Cimarron tequila, Pierre Ferrand dry curacao, fresh lime juice and agave nectar to a cocktail shaker with ice and shake vigorously. Pour cocktail straight into glass. Hold sage leaf to flame and add to the top of cocktail to garnish.
Miner's Mule: Instructional Video
Ingredients:
2 oz - Spring 44 Vodka
.5 oz - Simple Syrup
.75 oz - Fresh Lime Juice
4 oz - Fever Tree Ginger Beer

Tools Needed:
16oz copper or glass tumbler, cocktail shaker or container with lid, ice.

Method:
Chill your copper tumbler (or glass tumbler) with ice water. Add Spring 44 Vodka, simple syrup, lime juice and ice to shaker. Shake vigorously, dump ice water out of your tumbler, add fresh ice and pour freshly shaken cocktail over ice. Top with ginger beer. Garnish with lime wedge.
Up in Smoke: Instructional Video
Ingredients:
1.5 oz - Peach Street Bourbon
.75 oz - Cocchi Sweet Vermouth
2 Dashes - Angostura Bitters
1 ea. - Brandied Cherry

Tools Needed:
Mixing glass, stirring spoon, strainer or sieve, coupe or martini glass, torch (or lighter, but that's no fun!), ice.

Method:
Put cherry wood on fire safe surface such as a cast iron pan and light with torch. While smoking cover with coupe or martini glass and leave. Add Peach Street Bourbon, Cocchi Sweet Vermouth and Angostura Bitters to mixing glass with ice and stir vigorously. Strain into smoked coupe. Garnish with brandied cherry on a skewer.
Rum Swizzle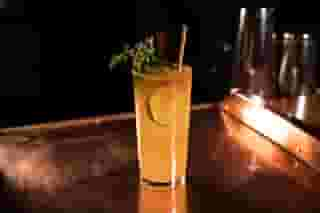 This is our twist of a classic Caribbean drink that has a fun history. It Originally inherited its name from the wooden stir sticks of the evergreen "Swizzle Stick" tree". In the 1920's this drink came about as a cold beverage made from rum, fresh citrus, and the exotic bitter flavors that the fresh bark imparted from the swizzle sticks that were used. Nowadays, (unless you happen to be in the Caribbean) fresh Swizzle sticks are hard to come by, so we add some exotic flavors with the addition of bitters and liqueurs. We are very excited that you will get to enjoy crafting and drinking this fine beverage!

As bartenders, we acknowledge that everyone has slightly different taste. An added beauty of the Ore House Bottle Service is that you can adjust the recipe to your own palette! If you want this cocktail to be a more refreshing, easy-drinking beverage, simply add slightly more juice. If you want to bask in the rich flavors of the rum, cut back on the juice. Cocktails are all about balance, and you can experiment to find yours!

We love this drink with crushed ice cubes to thoroughly chill the and properly dilute the drink. If you don't have crushed ice at home, you may crack ice cubes in your hand with the back of a spoon (if your hands can take the cold). That may be too much trouble, and it would be fine with ice cubes. You can stir the drink more to let it chill a bit longer on the bigger chunks of ice.

Ingredients:
1 fl oz - Wray & Nephew Overproof Rum
1 fl oz - Demerara Aged Rum
1 fl oz - Ian's Special Island Liqueur
1 fl oz - Lime juice (about 1 lime)
1 fl oz - pineapple juice
1 healthy dash -Angostura Bitters
1 bouquet - mint

Tools Needed:
Tall Glass, barspoon, citrus juicer.

Method:
Add all ingredients (except for the mint) to your drinking vessel, and then fill with a heaping amount of crushed ice. Now with a bar spoon, chopstick, or sturdy straw, vigorously stir the drink to let the ice begin to melt and the ingredients to combine. Take a healthy amount of mint in the palm of your hand and slap it like you are applauding the great job you have done (this will express the natural oils in the herb to amplify its fragrance). Nestle it atop the beverage like it is growing from the top of the glass, and enjoy! This cocktail is often best enjoyed with a straw. If you crave the spicy aromas of bitters, please feel free to add another dash of Angostura to the top of the drink!