Back To Menu
COOK AT HOME DINNER KITS
$37
10oz Flat Iron Dinner Kit
This Kit Includes:
10oz USDA Prime Flat Iron
30 Day Wet Aged
Choice of Sauce, Side Dish, & Dessert
Local Greens Salad
"Steak Sauce" - Select One:
Cognac Peppercorn Sauce
Mushroom Sage Cream Sauce
Shallot Marmalade
Side Dish - Select One:
Mac & Cheese
Roasted Garlic Mashed Potatoes
Balsamic Brussels Sprouts
Dessert - Select One:
Dark Chocolate Marquise
Peach Cobbler
Help me pick a wine to pair!:
14K Gold Wine
+$20
18K Gold Wine
+$40
24K Gold Wine
+$80
Have you tried this item? Pop it!
Help other diners know what to expect by sharing your experience.
Photo Gallery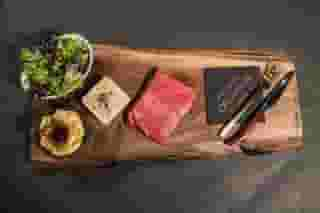 Back To Menu
COOK AT HOME DINNER KITS
$37
10oz Flat Iron Dinner Kit
This Kit Includes:
10oz USDA Prime Flat Iron
30 Day Wet Aged
Choice of Sauce, Side Dish, & Dessert
Local Greens Salad
"Steak Sauce" - Select One:
Cognac Peppercorn Sauce
Mushroom Sage Cream Sauce
Shallot Marmalade
Side Dish - Select One:
Mac & Cheese
Roasted Garlic Mashed Potatoes
Balsamic Brussels Sprouts
Dessert - Select One:
Dark Chocolate Marquise
Peach Cobbler
Help me pick a wine to pair!:
14K Gold Wine
+$20
18K Gold Wine
+$40
24K Gold Wine
+$80
  Back To Menu